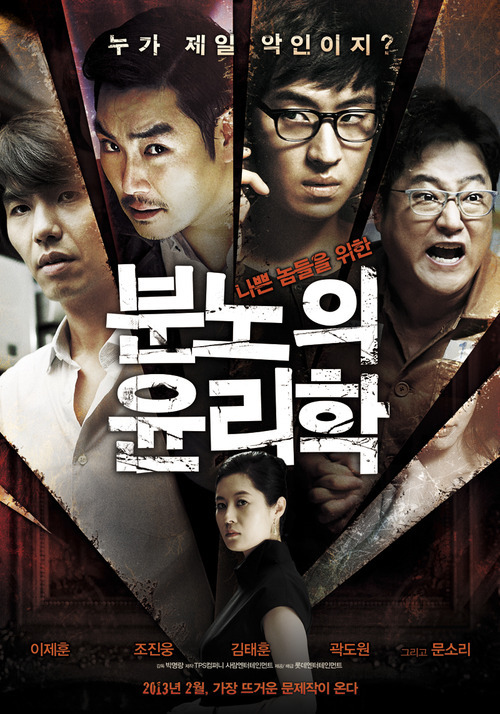 [News] ′The Ethics of Anger′ Starring Lee Je Hoon, Kwak Do Won and More Releases Its Poster.
Cr. - enewsworld
The poster for the Lee Je Hoon, Cho Jin Woong, Kim Tae Hoon, Kwak Do Won and Moon Sori-starring film
The Ethics of Anger
released a poster hinting at its story on January 21.
The Ethics of Anger
is a film about how a bad guy, a cruel guy, a jerk, a coward and an evil woman show their true colors as they get involved in the murder of a beautiful female college student.
The poster shows the five main villains in a broken piece of glass.
Lee Je Hoon is the bad guy, who eavesdrops on what happens in the student′s room as he lives next door. He is shown looking around him with a tense expression on his face.
Cho Jin Woong appears as the cruel guy, who pretends to be a good-natured neighbor but actually bears down on the girl after lending her his money. He shows his character with his cold expression and sharp eyes.
The jerk Kim Tea Hoon expresses his crazy love with an absentminded expression. He stalks the girl after she breaks up with him and he is unable to accept the fact that they′re no longer together.
Kwak Do Won is the coward who has an affair with her. He says he truly loves her, but in reality he is always scared his wife will find out about the relationship. He wears a prisoner′s uniform, and seems to be shouting at the top of his lungs.
The evil woman Moon Sori, who learns of her husband′s affair following the girl′s death, is shown below the four men.
The Ethics of Anger
is set to premiere in February.