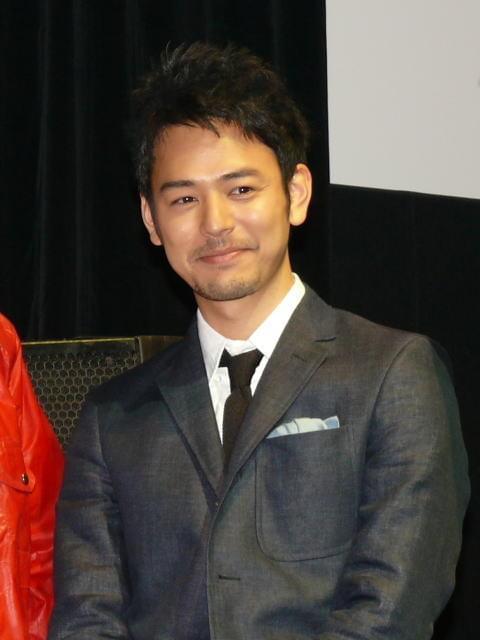 [VOD / Photo & News] Tsumabuki Satoshi tries to describe his upcoming movie 'Ai to Makoto' again.
Cr. - http://www.tokyohive.com/
On April 18th, director Miike Takashi and actors Tsumabuki Satoshi and Saito Takumi attended an event called 'Miike Takashi presents Otono Dake no Koukan' in Tokyo. Tsumabuki and Saito are both appearing in Miike's upcoming movie 'Ai to Makoto'.
The reporters were very interested whether Tsumabuki would be able to describe 'Ai to Makoto' in a better way than he previously did at a recent PR event for the movie. The movie is the fourth live-action adaption of Kajiwara Ikki's popular manga of the same name from the 1970s. It follows the turbulent romance between the high school delinquent 'Taiga Makoto' (Tsumabuki) and the innocent high school girl 'Saotome Ai' (Takei Emi). The music for the movie and all its musical scenes are produced by famed music producer Kobayashi Takeshi.
Last time Tsumabuki described it as a "messed up movie" and stated that he doesn't get it at all, which aren't exactly the right words to promote a movie but caused everyone to burst out in laughter. Of course, he was quoted in headlines the following day, which made him feel a bit embarrassed.
This time he commented, "I really reflected on my words. Normally you should say something like that it's an 'extraordinary' movie." However, after a short pause he added, "I still don't get the movie, though. And there's more! This miracle of a movie doesn't even fit into a genre. It's an action, love, and comedy movie, as well as a musical. I think there needs to be a new genre called 'Ai to Makoto'."
Fortunately Miike himself, who clearly enjoyed the event because he was allowed to drink and smoke, agreed with him, "It's a movie that pretends to be a stupid movie from beginning to end." He continued, "You can find both extremes in the press, some are praising it to the skies while others are just frowning in despair. Even I told myself during the filming, 'You really did it now, didn't you…?' Last year I went to Cannes with 'Ichimei', but I doubt that I'll be able to go again this year with this movie."
Tsumabuki and Saito both had to wear a gakuran (school uniform) again in the movie, despite being 30 years and older themselves. The former commented, "I just told myself that if Ihara Tsuyoshi is able to wear one (in this movie), then I'll be able to wear one too. (laughs)"
Saito added, "Ihara is 48 years old, right?", which surprised Miike. "He's 48? If I knew he was 48, I wouldn't have offered him the role!"
Asked about their young co-star Takei, Saito commented in a very old fashioned way, "It felt like she's from a new breed of humans."
'Ai to Makoto' is opening in cinemas on June 16th.