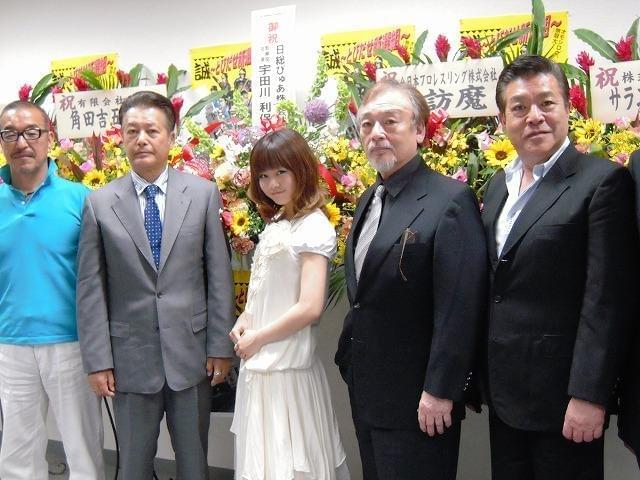 [News] Niigaki Risa to start her acting career in movie, 'Tobidase Shinsengumi!'.
Cr. - http://www.tokyohive.com/
On May 28, former Morning Musume member Niigaki Risa attended a press conference for the movie, 'Tobidase Shinsengumi!', with her co-stars Nagasawa Toshiya and Onodera Akira, and director Nobushi Shou.
This marks Niigaki's first movie since starring in 'Gekijoban Honto ni Atta Kowai Hanashi 3D' about two years ago.
Niigaki recently graduated from Morning Musume at their Nippon Budokan concert on May 18. She expressed, "I plan on continuing my activities as an actress, so I want to take in many things from my co-stars, and I also want to make every part my own."
The filming will take place in Fujisawa, Kanagawa. Since Niigaki is originally from Yokohama, she shared that she's been there for excursions in elementary school. "I love Enoshima Aquarium. During my Morning Musume days, I worked part-time at the beach house for one day for a magazine project. I want to go there someday for a date," she said.
'Tobidase Shinsengumi!' is based on a novel by Kuwahara Jotaro, who has also written 'Boku no Onna ni Te wo Dasu na' and 'Shinjuku Junai Monogatari'. It will be directed by Nobushi Shou, and filming will start in Fujisawa on August 21. According to director Nobushi, the cast will also shoot in Enoshima, Shounandai, Yugyouji, and Kamakura.
The story revolves around an all-female theater troupe who rehearses for "Musical Shinsengumi Makoto", when suddenly, the real members of the Shinsengumi appear from the late-Edo period.
'Tobidase Shinsengumi!' will open in theaters in Kanagawa in 2013, and then nationwide afterwards.