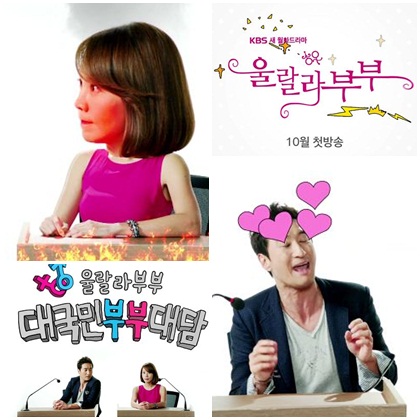 [VOD & News] KBS releases teaser for upcoming drama 'Oohlala Couple'.
Cr. - allkpop
KBS's upcoming Monday-Tuesday drama 'Oolala Couple' has finally released its first teaser.
The 50-second preview features leads Shin Hyun Joon and Kim Jung Eun each taking different sides and arguing like normal couples.
Directed by Lee Jung Sub and Jun Woo Sung, 'Oohlala Couple' is a family comedy that revolves around a married couple who ends up one day with their souls switched.
Others who have been cast in the drama include Brown Eyed Girls' Narsha, Byun Hee Bong, Han Jae Suk, Han Chae Ah, Choi Sung Gook, Song Young Kyu, and Ru Shi Hyun.
The first episode is scheduled to air on October 8th.