[News] Fangirling It With the Band – Kdrama style.
Cr. - kdramastars
Kdramas provide a great opportunity to hang out with the band as several recent dramas focus on musicians. And K-band-dramas deliver some great soundtracks.
One reason the music dramas work so well is that producers often recruit musicians, who already know their way around a stage, to play fictional band members. The result is a sound fans can relate to.
The latest band-focused drama, "Shut Up Flower Boy Band," featured a fictional band called Eye Candy. The band consisted of the teens their teachers have written off as troublemakers and losers. To make things worse, the school they attend shuts down and the raucous rockers are transferred to a more conservative, elite school where they are immediately pegged for expulsion.
But a tragic death sets rock and roll destiny in motion. The band members must decide if music is more important than anything else.
The band created for this series has a great retro rock sound, heightened by the gruff voice of model-turned-actor Sung Joon. Before playing Kwon Ji Hyuk, he did not have much singing experience but he proceeded to rock the role. Kim Myung Soo played band member Lee Hyung Joo. Kim Myung Soo, a member of the group Infinite was already well known for his synchronized dancing and pretty face. Singer Lee Min Ki also had a cameo appearance, adding dramatic flair to his episodes.
"Shut Up Flower Boy Band" is an interesting series because it offers a more realistic look at the kinds of problems bands really face. Making it is often only the beginning.
However, the soundtrack for the film, which featured Eye Candy's songs, effortlessly scored on many bias lists. While working on the song, "Jaywalking," music director Lee Jae Hak was pleasantly surprised by the quality of Sung Joon's singing.
"He is really good," said Lee. The show served as his band audition.
Another fun drama band was Take Care My Bus in "Mary Stayed Out All Night" with Jang Geun Suk singing the ballad, "I Will Promise You."
The singer and guitarist also played the lead musician in A.N.JELL, the band featured in the series "You're Beautiful." Other talented band members were Lee Hong Ki of FT Island, Jung Yung Hwa of CNBLUE and singer Park Shin Hye. Each of them gets a chance to sing on the OST. Their sound was so successful that after the series ended, fans clamored to see the fictional band perform.
Jung also took a second turn as a musician in "Heartstrings," in which his band, known as The Stupid, mixes metal rock riffs with traditional Korean instruments.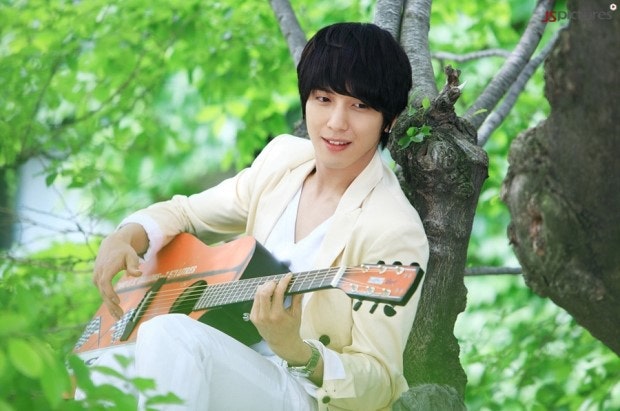 Other dramas that feature bands are "Dream High," "Dream High 2," "I Am Legend," "What's Up," and "The Woman Who Still Wants To Marry."
Be sure to tell us about your favorite kdrama bands and why you would want to hang out with them.