[Photo & News] Hong Soo-hyeon to star in "Jang Ok-jeong" as Queen In-hyeon.
Cr. - hancinema
Actress
Hong Soo-hyeon
is starring in the upcoming SBS drama "
Jang Ok-jeong Lives in Love
" as Queen In-hyeon, according to the production.
Queen In-hyeon is a fatalistic rival to Jang Ok-jeong (
Kim Tae-hee
) who re-enters jang Hee-bin to the palace and creates a rapid breakthrough. However,
Hong Soo-hyeon
's role of the Queen isn't the typical and powerless one but an active character when it comes to belief and love.
Hong Soo-yeon
is familiar with historical dramas as she played the role of Princess Kyeong-hye in the KBS 2TV drama "
The Princess' Man
" in 2011.
Under a unique theme of a Joseon Times fashion designer, "
Jang Ok-jeong Lives in Love
" is not about a political character but a lover and artist. The cast includes
Kim Tae-hee
,
Yoo Ah-in
,
Jae Hee
and others. To be aired this coming April.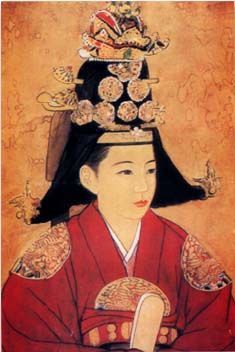 Queen In-hyeon Biography
Queen Inhyeon
(
Hangul
: 인현왕후,
Hanja
: 仁顯王后) (1667–1701) was the second
Queen consort
of
King Sukjong of Joseon
and one of the best known
Queens
of the
Joseon Dynasty
. Her life has been portrayed in many Korean historical dramas.
Born into the Yeoheung Min clan, she was the second daughter of Min Yu-jung (
Hangul
: 민유중,
Hanja
: 閔維重) (1630–1687) and his second wife, Lady Song of the Eunjin Song clan.
She married
King Sukjong
as his second Queen Consort in 1681, at the age of 14. When
so-ui
Jang Ok-jeong
produced a
son
in 1688, it created a bloody dispute called
Gisa literati purges
(기사사화). During this time, Sukjong wanted to give this eldest son (entitled the
wonja
, literally the "First Son") the title of "Crown Prince" and wanted to promote Lady Jang from
So-ui
to
Hui-bin
.
This action was opposed by the
Noron
faction, which supports Queen Inhyeon led by
Song Si-yeol
, and this was supported by the
Soron
faction, which supports Lady Jang. Sukjong became angry at the opposition, and many were killed including
Song Si-yeol
. Many, including Inhyeon and her family, were forced into exile. Queen Inhyeon was deposed, while Jang
so-ui
became Jang
hui-bin
, and then became the third Queen Consort.
Later in 1694, Sukjong, feeling remorse at his temperamental actions, gave in to a movement for Inhyeon's reinstatement, which was led by the
Soron
(this event was called the
Gapsul Hwanguk
(갑술환국,甲戌換局)) She was brought back to the palace and was reinstated as Queen Consort, with Lady Jang being demoted to
hui-bin
.
In 1701, aged 34, she became ill and died of an unknown disease (some sources say that she was poisoned).
It has been said that Sukjong, while mourning for Inhyeon, dreamed of her in a
sobok dress
drenched with blood. Sukjong asked Inhyeon of how she died, but Inhyeon didn't say anything, but pointed in to the direction of Jang
Hui-bin'
s chambers. Sukjong awoke, then went into Jang's chambers. While approaching, he heard music and sounds of laughter. Eavesdropping, he saw Jang
Hui-bin
with
Shamanist
priestesses in her chambers, praying for the Queen's death, while striking a figurine with arrows. When this was discovered by Sukjong, Lady Jang was executed for her actions by poison.
One of the Queen's
ladies in waiting
wrote a book called
Inhyeon Wanghu Jeon
(
Hangul
: 인현왕후전,
Hanja
: 仁顯王后傳,
Queen Inhyeon's Story
), which still exists today. She is buried in Myeongreung (명릉,明陵) in Gyeonggi Province, and Sukjong was later buried near her in the same area. She has no issue to Sukjong.