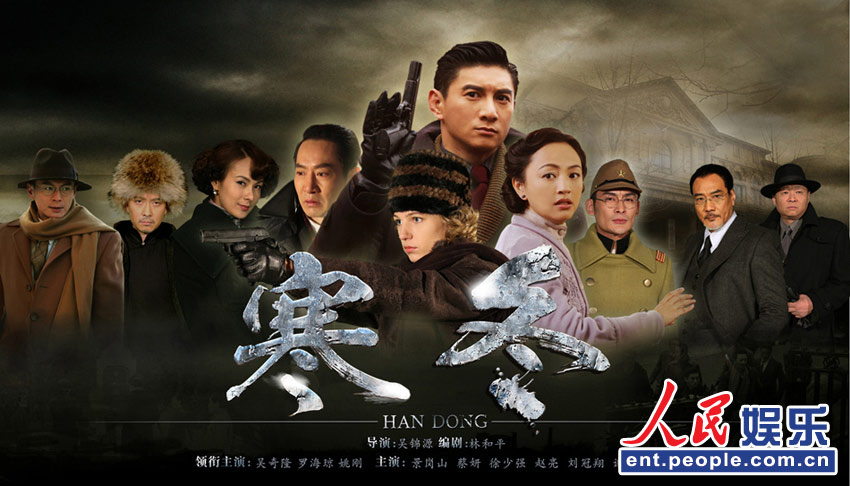 [News] Nicky Wu Portrays a Spy in TV Drama, "Severe Winter".
Nicky Wu
(吴奇隆) has fallen in love with his latest role, a war spy, in new mainland Chinese drama,
Severe Winter
<寒冬>, which started filming in Dalian. The role allows Nicky to explore the psychological depths of his spy character, while his heart will be torn between a Russian beauty and
Luo Haiqiong
(罗海琼).
Severe Winter
is set in the Second Sino-Japanese War, and stars
Yao Gang
(姚刚),
Zhao Liang
(赵亮),
Jing Gangshan
(景岗山),
Norman Tsui
(徐少强) and Korean actress
Chae Yeon
(이채연). The drama is directed by Hong Kong director
Wu Jinyuan
(吴锦源) of
Scheme of a Beauty
<美人心计> and
Bu Bu Jing Xin
<步步惊心> fame with golden playwright,
Lin Heping
(林和平) behind the script.
The drama will revolve around Nicky who will play the historical role of Deng Zihua, a spy who worked underground for the anti-Japanese government body. With involvements from the Communist Party as well as the Soviet Union's Intelligence Agency, the entanglement of the conspiracy will surely create compelling moments in the series.
Severe Winter
will see Nicky working with director Wu Jinyuan for a second time. Scriptwriter Lin Heping is a household name in the mainland entertainment industry, having penned several successes, such as
Sunny
<风和日丽> and
Auntie Duohe
<风和日丽>. Claiming that Dalian, where
Severe Winter
is filmed, is his lucky place, Lin Heping is confident that the drama will be a roaring success, bringing in significant income for the two investors.
With such a strong crew and cast behind and in front of the screen respectively, it was no wonder that
Severe Winter
received much hype even before filming has begun. It was reported in the Chinese media that major television studios and video sites have already pricked their ears up eagerly, anticipating the television drama. As the drama had started filming recently, the earliest release will be at the end of this year.